IP TALK: A WOLF GREENFIELD PODCAST
Conversations about intellectual property-related legal issues, developments and cases of interest.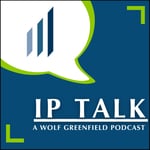 Episode 1: Practicing Law From Home
Practicing law is challenging and time-consuming under the most ideal circumstances. So it goes without saying that the onset of the COVID-19 pandemic has required a new way of working to ensure clients are serviced to the fullest extent.
However, for many, juggling work and family demands—all within the same four walls—is an entirely new challenge. Chelsea Loughran, a shareholder in the litigation group at Wolf Greenfield, is a married mom with two young children, and like many of us, she's navigated the new normal through trial and error. She recently shared her unique perspective on work family balance and working from home on IP Talk with Wolf Greenfield and with Law360.
01:00 - What Chelsea's home and work life was like prior to March of last year
01:55 - There were a number of home and work-related discussions to prepare for a fully remote environment

04:47 - The challenge of being a work-from-home attorney and a parent

07:19 - One of the clearest challenges has been conducting virtual depositions

09:01 - How Chelsea has adapted to other work duties

11:08 - Chelsea shares a story about an unexpected visit during a webinar

13:51 - The takeaways and benefits she's noticed over the last year
John Welch
COUNSEL, TRADEMARK & COPYRIGHT PRACTICE
Episode 2: Keeping Tabs on the TTAB
John Welch has decades of experience representing clients in scores of patent, trademark, copyright lawsuits across the country.
John specializes in cases before the Trademark Trial and Appeal Board (TTAB), and speaks and writes frequently regarding that tribunal. His blog, The TTABlog, is highly popular with the trademark community.
In this episode of IP Talk with Wolf Greenfield, John provides a summary of the Board, takes a look at interesting trends and cases and offers a review of the recently enacted Trademark Modernization Act.
00:49 - An overview of the Trademark Trial and Appeal Board (TTAB)
02:22 - Why do parties go to the TTAB instead of federal court?
03:59 - Explaining the high affirmance rate for likelihood-of-confusion and mere descriptiveness cases
04:55 - TTAB trends in 2021
06:19 - Why has there been an increase in failure to function cases?
07:15 - Interesting cases on the horizon
09:32 - Notable elements of the Trademark Modernization Act of 2020 ("TMA")
12:39 - John's TTABlog—keeping tabs on the TTAB since 2004