IP TALK: A WOLF GREENFIELD PODCAST
Conversations about intellectual property-related legal issues, developments and cases of interest.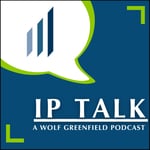 Episode 18: Alumni Spotlight: Stephanie Stella
We're pleased to feature Stephanie Stella in this episode of Wolf Greenfield's Alumni Spotlight series. Stephanie was an associate in Wolf Greenfield's Trademark & Copyright Practice from 2015-2019.
Stephanie now serves as Principal Corporate Trademark Counsel, Global Brand and Strategic Partnerships supporting the Xbox and Game Studios division of Microsoft. Microsoft is a global tech giant and the world's second largest gaming company.
Here are some highlights from Stephanie Stella's turn in the Alumni Spotlight on IP Talk with Wolf Greenfield:
00:48 - Stephanie's current responsibilities with Xbox and Microsoft
02:21 - The difference between a law firm attorney and working in-house for Microsoft
04:11 - How Wolf Greenfield prepared Stephanie for her current position
06:10 - The exceptional atmosphere and culture at Wolf Greenfield
07:43 - Advice Stephanie would give to her 20-year-old self
08:38 - Preferred travel destination
10:18 - Favorite TV show
Episode 17: Alex Kim on the Journey from Summer Associate to Full-time Attorney
Alexandra Kim is an associate at Wolf Greenfield, focusing her practice on patent litigation. She combines her legal skills with her deep scientific background to help Wolf Greenfield clients achieve their goals.
Before joining Wolf Greenfield full time, Alex was a summer associate at the firm. In this episode of IP Talk with Wolf Greenfield, Alex discusses her time as a summer associate, her work in public health, and her return to Wolf Greenfield.
Here are a few of the highlights:
00:42 – Alex's current role at Wolf Greenfield
02:44 – Working at Wolf Greenfield as a summer associate
04:28 – The impact of the summer associate experience on Alex's decision to pursue a career in law
05:36 – Alex's lifelong interest in biomedical sciences and public health
06:50 – Working with other "happy nerds"
08:51 – Learning something new every day
09:47 – Starting at Wolf Greenfield in the midst of Covid
10:40 – The pleasure of mentoring new summer associates
Episode 16: Riding the NFT Wave with John Strand
John Strand is a shareholder in Wolf Greenfield's Trademark & Copyright Practice. He focuses on the enforcement and defense of intellectual property rights in trademarks, trade dress, domain names, and patents.
In addition to his contested matter work, John has extensive experience in counseling clients to help avoid disputes and develop their IP protection, especially in the area of Web 3.0 and blockchain technologies, which includes cryptocurrencies and NFTs, non-fungible tokens. NFTs enable a buyer to purchase ownership of a digital good in the form of a unique digital token living on a blockchain.
In this episode of IP Talk with Wolf Greenfield, John will help us make sense of this new digital trend and offer suggestions on how owners can protect their IP rights. Here are a few of the highlights:
01:08 – Some background on NFTs and where they stand in relation to blockchain technologies
03:14 – IP issues related to NFTs
05:16 – The problem with protecting IP rights when the blockchain is involved
07:05 - IP protection suggestions for content creators to consider before publishing their work for sale
08:03 - Trey Songz sold an NFT album last year. Lessons for other artists considering this move
09:52 – After the initial hype about NFTs, what will the market look like?
Episode 15: Alumni Spotlight: Cristin Berkey
We're pleased to feature Cristin Berkey in this episode of Wolf Greenfield's Alumni Spotlight series. Cristin was an associate at Wolf Greenfield from 2017-2019.
Cristin currently serves as Senior Director of Intellectual Property and Contracts at Abata Therapeutics. Abata translates the biology of regulatory T cells (Tregs) into transformational medicines for patients with progressive multiple sclerosis and other serious autoimmune and inflammatory diseases.
Here are some highlights from Cristin Berkey's turn in the Alumni Spotlight on IP Talk with Wolf Greenfield.
00:50 - Cristin's responsibility for managing IP strategy at Abata Therapeutics
03:01 - An overview of T cells and their potential
04:53 - The difference between being an in-house attorney and working at a law firm
06:08 - Cristin's favorite Wolf Greenfield memory
06:58 - Favorite place to get away
07:22 - Light, heartwarming shows are a nice way to relax
Shareholder,
Chemical & Materials Technologies Practice
Associate,
Litigation Practice
Episode 14: Protecting Confidential Information: Brandon Blackwell and Jason Balich
Patent owners face many challenges when it comes to protecting confidential information in today's collaborative and interconnected world. In this episode of IP Talk with Wolf Greenfield, attorneys Brandon Blackwell and Jason Balich discuss some of the common challenges and mistakes, as well as offer helpful suggestions for planning and safeguarding secrets.
Brandon is a shareholder in the Chemicals & Materials Technologies Practice Group at Wolf Greenfield. He helps clients build and maintain patent portfolios and implement patent strategies that help them achieve their business goals. Brandon's practice encompasses a range of areas - from patent prosecution and post-grant activities to IP transactions and portfolio management strategy.
Jason is a trial and appellate lawyer in Wolf Greenfield's Litigation Practice. He protects clients' technology and defends their freedom to use it. Jason's experience includes successfully defending a variety of patent owners—from manufacturers to public universities. He also focuses his practice on trade secrets.
Here are some highlights from this episode:
01:05 – The speed and ubiquity of the Internet have fostered collaboration and innovation, but also increased risks
02:21 – Some of the most common mistakes made by patent owners
03:14 – Tips for preparing an effective protection plan
05:18 – Specifying what information can be shared
06:45 – An overview of non-disclosure agreements (NDAs)
11:19 – The importance of an expert IT team for sharing and protecting confidential information
12:20 – Suggestions for employee training
14:40 – The benefits of proper information protection and the consequences of not properly safeguarding information
Episode 13: Alumni Spotlight: Alex Ewing
Alex Ewing is featured in this first episode of Wolf Greenfield's Alumni Spotlight series. Alex worked for Wolf Greenfield as an associate from 2011-2015. These days, Wolf Greenfield works for Alex, who is at LiquiGlide.
Alex serves as Chief Operating Officer at LiquiGlide, which was founded in 2012 and born out of an MIT Lab. LiquiGlide's mission is to revolutionize products, packaging, processes, and patient experiences by eliminating the friction between solids and liquids.
Here are some highlights from Alex Ewing's turn in the Alumni Spotlight on IP Talk with Wolf Greenfield:
00:54 - Some background on LiquiGlide and its recent work with the consumer giant Colgate
01:53 - The difference between working at Wolf Greenfield and getting involved with a start-up
04:00 - What makes LiquiGlide unique in the marketplace?
05:19 - The thrill of doing it all at a start-up
06:26 - How Wolf Greenfield provided a solid foundation for his current work
07:48 - Alex's favorite Wolf Greenfield experiences
08:24 - Advice to young people starting their professional lives
08:52 - Alex's favorite book
Episode 12: Elizabeth Boehm on the Joys of Being a Patent Agent
Patent Agents are authorities in their fields with advanced degrees and deep insights. Not all IP law firms have patent agents. But Wolf Greenfield has long recognized that having specialists who are not attorneys on the team adds to the firm's richness - and provides an attractive career path for non-attorneys who love the world of IP law.
Elizabeth Boehm is a Patent Agent in Wolf Greenfield's Biotechnology Practice Group group. She assists the firm in biotechnology patent prosecution, and has extensive knowledge in the areas of biochemistry, molecular biology and biophysics.
In this episode of IP Talk with Wolf Greenfield, Elizabeth shares her thoughts on the life of a patent agent at Wolf Greenfield. Here are a few of the highlights:
01:12 - What attracted Elizabeth to the career of patent agent?
02:16 - A day in the life of a patent agent
03:54 - Wolf Greenfield as a leading firm for patent agents
05:12 - Feels liberating to be a patent agent
07:10 - Patent agents use their science degrees everyday
07:57 - Having a "seat at the table" in the biotech group
09:45 - What makes the patent world intriguing?
10:31 - Elizabeth's advice for STEM professionals considering a career as a patent agent
Episode 11: The Latest Developments at the International Trade Commission with Libbie DiMarco
Keeping tabs on the International Trade Commission is critical for any business engaging in trade across the US border. And in recent months, there has been a great deal of news coming out of the ITC, from compelling cases to turnover of Administrative Law Judges.
Attorney Libbie DiMarco is a shareholder in Wolf Greenfield's Litigation Practice Group. In this episode of IP Talk with Wolf Greenfield, Libbie shares her thoughts on the latest developments at the ITC. Here are a few of the highlights:
01:07 - Background at Wolf Greenfield
02:13 - ITC issues through the years
04:15 - The ITC had to make significant adjustments because of COVID
06:35 - The pros and cons of relying more on spoken testimony and less on written testimony
09:02 - The ITC recently appointed its third Administrative Law Judge in three years. What's the impact of this kind of turnover?
11:03 - An overview of the Kyocera case and the implications of the Federal Circuit's ruling against the ITC with a precedential decision for the Japanese electronics company
Episode 10: An Update on Patent Prosecution Trends with Jon Roses
Attorney Jonathan Roses is a shareholder in Wolf Greenfield's Pharmaceutical Practice Group. He works with life sciences companies in a variety of areas, including small molecule pharmaceuticals, pharmaceutical formulations, medical devices and surgical methods.
In this episode of IP Talk with Wolf Greenfield, Jon provides insights on a variety of topics, including international patent prosecution, Section 101 reforms, Orange Book challenges and "skinny labels." Here are a few of the highlights:
00:41 - Jon's love of chemistry
04:16 - Current challenges in patent procurement
06:01 - Strategies for protecting IP and how to minimize risk
07:52 - Key considerations for international patent prosecution
10:48 - Why have there been fewer challenges to Orange Book patents at the USPTO?
12:53 - Induced infringement trends - what's happening with "skinny labels," aka Section 8 carve-outs?
16:15 - An update on potential reforms for Section 101, the issue of patent eligible subject matter
19:14 - Will the Supreme Court take any challenges to patent eligible subject matter?
20:12 - How the increase in discretionary denials of post-grant proceedings impacts patent holders
23:08 - Some thoughts on the success of Wolf Greenfield's Post-Grant Proceedings Practice
Episode 9: Learning More About the Wolf Greenfield Tech Spec Program
Many Wolf Greenfield attorneys were accomplished professionals in other fields before pursuing a career in IP law. A great number of them went through the firm's technology specialist—or tech spec—program. A technology specialist translates into words the often complex work of inventors who are experts in their fields. At Wolf Greenfield, our technology specialists interact with clients frequently and are visible members of our client teams.
In this episode of IP Talk with Wolf Greenfield, Shareholder and Wolf Greenfield tech spec program alum Heather DiPietrantonio shares her experience and advice to those considering the program.
00:58 - What the tech spec program consists of

01:35 - Why someone might want to make the transition to IP law
02:42 - Heather discusses her journey from science to Wolf Greenfield
03:53 - The ideal qualities of a tech spec candidate
04:35 - Benefits of the tech spec program
05:23 - Heather addresses challenges of the program and how to overcome them
06:46 - Along with a wealth of knowledge, the tech spec program helps build relationships
07:22 - Advice to someone considering the tech spec program
Episode 8: Creating a More Diverse Workplace with Rob Maldonado
Attorney Rob Maldonado is based in Wolf Greenfield's New York office. His practice is focused on intellectual property litigation, including patent, trademark, copyright, false advertising and unfair competition matters in federal court. But Rob is also passionate about issues related to diversity and inclusion.
In this episode of IP Talk with Wolf Greenfield, we talk to Rob about his decision to switch from an engineering career to law and his extensive involvement with groups like the Hispanic National Bar Association, the American Bar Association and the LGBT Law Association Foundation of Greater New York. Here are a few of the highlights:
01:05 - The transition from engineering to law
02:21 - Discussing the move to Wolf Greenfield
04:12 - Rob's extensive work with diversity programs
06:35 - On his mother's influence
08:24 - How diversity programs have evolved through the years
09:47 - There's still a great deal of room for improvement
11:38 - The ABA's "Good Guys" program seeks to involved men in the process of including women in positions of power
13:16 - Advice for young people considering a career in law
14:53 - Biggest wish for 2022
Episode 7: Cybersecurity - Protecting Sensitive Information and Guarding Against Evolving Threats
Matt Berg has been at the helm of Wolf Greenfield's information technology initiatives since joining the firm in 2001. As Chief Information Officer, Matt is responsible for strategic technology planning and execution. At the top of his priority list is cybersecurity.
In this episode of IP Talk with Wolf Greenfield, Matt describes the firm's approach to protecting client information and guarding against constantly evolving cyber threats. Here are a few of the highlights:
00:48 - The different approaches for working with existing clients compared to prospects
03:24 - Primary targets that must be protected
04:45 - How has the cybersecurity landscape changed in recent years?
07:13 - Policies for working with third parties
09:26 - The importance of ethical walls
11:55 - Explaining "the human factor" in cybersecurity
16:53 - Protecting against emerging and unknown threats
Episode 6: Making Diversity and Inclusion a Priority in the Legal Industry
How far must the legal community as a whole—and intellectual property law, particularly—go to achieve ubiquitous diversity and inclusion? According to Wolf Greenfield shareholder and Executive Committee member Christina Licursi, quite a way. However, she's encouraged by the changes she's seen in the industry and in IP in recent months.
In this episode of IP Talk with Wolf Greenfield, Christina shares her thoughts on creating a more diverse legal workforce and areas where Wolf Greenfield is attempting to affect real change.
01:05 - Diverse hiring is a critical need in the legal industry
03:13 - Christina shares strategies for recruiting and retaining diverse talent
05:40 - Firms must address the return to the office with a balanced approach and improve diversity and inclusion efforts
07:40 - Having diversity doesn't necessarily mean an organization is being inclusive
09:38 - Christina believes it's everyone's responsibility to hold their colleagues and organization accountable for creating a diverse and inclusive work environment
11:29 - The pandemic has had a more significant impact on women
12:35 - Christina shares her three-part approach to promote diversity and inclusion
15:15 - On the difference between transactional leadership and transformative leadership
17:08 - How to make good on promises of diversity and inclusion initiatives
Episode 5: The Diverse Occupational Backgrounds of IP Law
Career paths aren't always a straight line, something Adam Zeiger can attest to. The Wolf Greenfield associate has a background in engineering and science, but a chance meeting led him toward the legal profession.
Without question, Adam's story is not unusual—many have channeled their expertise in a wide variety of areas to pursue a career in IP law. In this episode of IP Talk with Wolf Greenfield, Adam explains why transitioning from science to law made sense and why he finds it so rewarding.
00:53 - Adam shares his career goals before going into IP law
03:47 - There were skills that proved to be applicable in both science and law
05:34 - Adam on areas of the legal industry that required a little more training in getting used to
07:27 - What makes IP law so unique is the diverse occupational backgrounds many attorneys bring to the table
08:47 - Adam talks about the benefits of working in IP
Episode 4: Intellectual Property Advice for Startups
In this episode of IP Talk with Wolf Greenfield, Neil Ferraro and Paul Metaxatos offer guidance for protecting an organization's products and designs.
Neil chairs Wolf Greenfield's Mechanical Technologies Practice. He works with clients in all areas of intellectual property and represents organizations ranging from startups to large corporations in a wide-range of technologies. Neil joined the firm after serving as an intellectual property attorney with the Ford Motor Company.
Paul is co-founder and principal of Motiv, a Boston-based consultancy that designs products and develops brands for companies of all sizes. Paul is recognized within the retail consumer industry as one of the leading authorities in brand-focused product development, having been associated with many iconic brands, including Keurig, Culligan, and Vitamix.
01:11 - The first steps a startup should do with a new design
02:58 - Paul's advice to put a non-disclosure agreement (NDA) in place
05:22 - What is the story behind the invention?
06:44 - Developing effective protection strategies
09:42 - The importance of doing consumer research
12:05 - The role of design patents
14:35 - Utility patents are also a powerful option
17:22 - From concept to off-tool, it's often a long, difficult experience to create a beautiful product
18:54 - Startups must be open-minded
20:15 - Pick the right partners for the entrepreneurial journey
Episode 3: Andrew Pinkard on the Value of Diversity in STEM and Law
As a technology specialist, Dr. Andrew Pinkard brings a very impressive background to Wolf Greenfield. He earned a PhD in chemistry from Columbia University and uses that knowledge in assisting the firm with patent prosecution related to both chemistry and materials science. He's also currently enrolled in the School of Law at Fordham University.
In addition to his professional endeavors, Andrew has a deep dedication to Diversity and Inclusion efforts to help raise awareness and create opportunities for women and minorities interested in the STEM and legal fields.
In this episode of IP Talk with Wolf Greenfield, Andrew shares insight into his background and offers thoughts on how the legal industry can promote greater inclusion.
01:03 - What Andrew's role as a technology specialist entails
01:27 - How a background in chemistry offers context for his current position
02:30 - The ways in which the STEM and sciences fields can attract more diverse candidates
03:20 - On the pressure of being a "trailblazer" and what attracted Andrew to Wolf Greenfield
04:56 - Balancing the responsibilities of promoting diversity and inclusion, while focusing on a significant workload
05:59 - The challenges of attending law school during the pandemic
07:06 - With a remote workforce, it may be easier for law firms to incorporate diversity
Episode 2: Keeping Tabs on the TTAB
John Welch has decades of experience representing clients in scores of patent, trademark, copyright lawsuits across the country.
John specializes in cases before the Trademark Trial and Appeal Board (TTAB), and speaks and writes frequently regarding that tribunal. His blog, The TTABlog, is highly popular with the trademark community.
In this episode of IP Talk with Wolf Greenfield, John provides a summary of the Board, takes a look at interesting trends and cases and offers a review of the recently enacted Trademark Modernization Act.
00:49 - An overview of the Trademark Trial and Appeal Board (TTAB)
02:22 - Why do parties go to the TTAB instead of federal court?
03:59 - Explaining the high affirmance rate for likelihood-of-confusion and mere descriptiveness cases
04:55 - TTAB trends in 2021
06:19 - Why has there been an increase in failure to function cases?
07:15 - Interesting cases on the horizon
09:32 - Notable elements of the Trademark Modernization Act of 2020 ("TMA")
12:39 - John's TTABlog—keeping tabs on the TTAB since 2004
Episode 1: Practicing Law from Home
Practicing law is challenging and time-consuming under the most ideal circumstances. So it goes without saying that the onset of the COVID-19 pandemic has required a new way of working to ensure clients are serviced to the fullest extent.
However, for many, juggling work and family demands—all within the same four walls—is an entirely new challenge. Chelsea Loughran, a shareholder in the Litigation Practice Group at Wolf Greenfield, is a married mom with two young children, and like many of us, she's navigated the new normal through trial and error. She recently shared her unique perspective on work family balance and working from home on IP Talk with Wolf Greenfield and with Law360.
01:00 - What Chelsea's home and work life was like prior to March of last year
01:55 - There were a number of home and work-related discussions to prepare for a fully remote environment

04:47 - The challenge of being a work-from-home attorney and a parent

07:19 - One of the clearest challenges has been conducting virtual depositions

09:01 - How Chelsea has adapted to other work duties

11:08 - Chelsea shares a story about an unexpected visit during a webinar

13:51 - The takeaways and benefits she's noticed over the last year